Home
Watch the Opportunity Crudes Management Seminar (OCMS) series:
"You are Corrosive: Naphthenic Acids and High TAN Crudes"
in February 2018.
Click here.
Opportunity Crude Management Seminar (OCMS)
Come to check out our 45-minute tutorial videos on challenges and opportunities of processing opportunity crudes or price-advantaged crudes
Provide the latest information and insightful knowledge that allows you to make better and informed decisions at work
The OCMS series is free-of-charge, but registration is required. Sign up today by clicking here
In the seminar, we discuss corrosion caused by naphthenic acids and high TAN crudes in refineries.
---

---
British crudes to the USGC? 2018-02-22
Given declining Venezuelan output, and the threat of new sanctions looming, US Gulf Coast (USGC) refineries have been scrambling to find replacement barrels for...

Canada's shale boom impacts small Alberta town. 2018-02-22
Condensate production in Alberta was 64K b/d in 2017—the highest level on record but only a fraction of the 600K b/d used by Canadian...

---
Heavy crude OSPs strengthen in Oct. 2017-10-10
Official Selling Prices (OSPs) for select heavy grades were set higher in Oct., up sharply for the second month in a row. The OSP for Iranian Heavy increased its premium over Arabian Heavy, which saw its premium narrow to...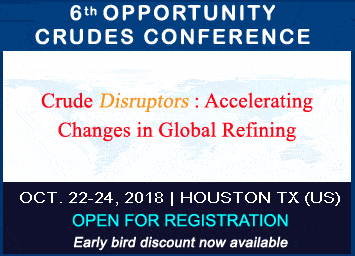 Complete list of OCMS topics:
What's in your crudes?
(Part 1: non-metals and Part 2: metals)
Do you have the right stuff (crude cuts)? (Part 1: Crude Selection; Part 2: Crude Assays, Blend Recipes & Blending Strategies)
We are not compatible
Crude blending 101: assay and simulation
Look-alike vs dumbbell crudes
A lot of problems: fouling and corrosion
You are corrosive: naphthenic acids, high TAN crudes
Don't take it lightly: challenges in processing LTO
Getting heavy: Concarbon, asphaltenes
What about BoB (Bottom of the Barrel)?
Taking care of the bottoms
Mismatch: crudes and refinery configuration.
Sign up today by clicking here
---

In order to reduce fuel oil, natural gas, and fuel gas consumption along with a reduction in CO2 emissions, some refiners are
...
Read more
Futures prices
---
Prices below are settled prices at the end of yesterday or last trading day

US coking, cracking margins continue to soar. 2017-10-10
Coking and cracking margins on the Gulf Coast and in the Midcontinent spiked for the second month in a row in Aug., hitting fresh...
White papers
Impact of Opportunity Crudes on Fouling in Preheat, Distillation, and Furnace Systems — Dorf Ketal pdf
---
Market Insights
Even as OPEC reported that its members had achieved their targets, the group saw trouble on the horizon in light of rising stock inventories not only in the US, but also in Europe....
Read more
---
Trends and Statistics
Oil futures prices ended down during the first half of 2017, which also happened to be the six-month period for OPEC's initial deal...Read more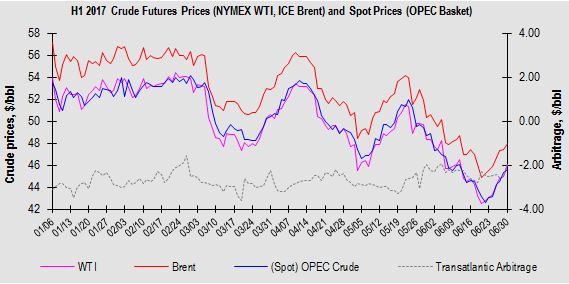 ---